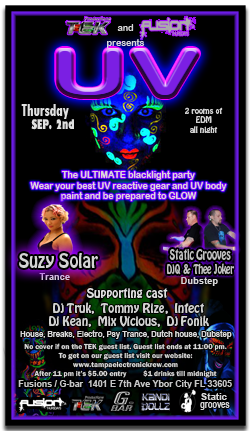 TEK & Fusions UV Party

When

Thursday, September 2, 2010

Where

Fusion Thursdays / G-bar (

map

)

1401 East 7th ave.

Ybor city, Florida, USA 33605

Other Info

TEK and Fusions presents our UV blacklight party. Come painted up in your brightest neon UV colors as we will have a ton of blacklights for this night. NO COVER as long as you RSVP to get on the guest list and arrive before 11:00 pm. After that it's $5.00. Each and every person must RSVP (no +1s or 2s) and RSVPs must be in by noon on September 2nd. Headlining the main room is global trance superstar "Suzy Solar" and headlining the 2nd room is the electrifying Dubstep duo DjQ and Thee Joker from static grooves. Line-up also includes your local favorites, Dj Kean, Truk, Tommy Rize, Fonik, Infect and Mix Vicious. Genres for the night include: Trance, Dubstep, progressive house, Breaks, Dutch house, and Psy Trance.